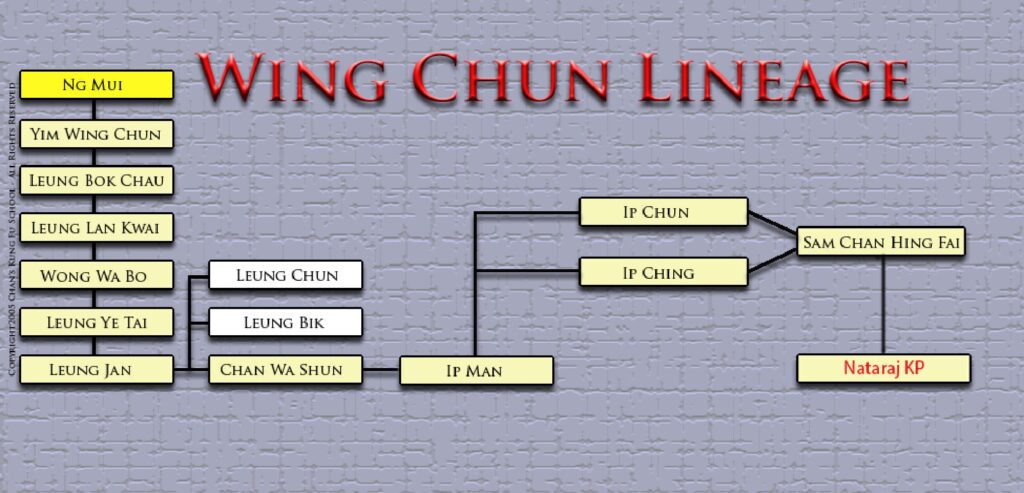 Sifu Dr. KP Nataraj is the Personal student of Grand Master Sam Hing Fai Chan. He also has trained under Donald Drose and Kong chi kong. Since1994 he is teaching wing Chun Kungfu in Kerala. His unique way of teaching wing Chun Kungfu attracted people from all walks of life and trained under him. As a Self defense expert he designed and implemented a self-defenses training course for higher secondary girls students in Thiruvananthapuram through Kerala state Women development corporation and Social justice department, Government of
Kerala, India
SiFu: K.P.Nataraj, founder of Yaolan Kungfu School was born in Kallara, Kottayam district of Kerala State, and India. His father was a practitioner of Kalary, martial art of Kerala. He followed his father's foot step and started learning Kalary at the age of seven in 1975. In 1982 he joined a local karate school and started learning karate. In 1986 he started learning kungfu under Sifu M.A.Baby. The style was called Mansoorya Kungfu. Later Sifu Baby changed style and taught Chinese kungfu. Sifu KP Nataraj continued with him and took Black sash. The chief instructor of that style was Sifu M.L.Antony. He was a 3rd degree Black sash. Since 1987 Nataraj was the assistant Instructor of Sifu MA Baby at Mar basil auditaurium and Kala auditorium at Kothamangalam. In 1989 he started his first independent
kungfu school at Gaurisankar auditorium, Vaikom, Kottayam, Kerala
After Black sash, Sifu KP Nataraj directly trained under Sifu M.L.Antony and continued training under him up to 2nd degree Black sash.. For 10 years he trained this style and he was the general secretary of that Association. But he was not satisfied with this style, so he shifted his attention to Nepal for learning Wushu and other Kungfu systems. During the stay at Nepal he met a master of Hung gar Kungfu in the lineage of David Lee. His journey towards Hung gar kungfu began there. During the training, he was informed about Wing Chun kungfu. That was in 1990. He got interested in Wing Chun and started searching to find out a Wing Chun master from china. On the way he came to know about Sifu Donald Grose. In 1994 SiFu: Don Grose accepted KP Nataraj as his first Indian student and started Wing Chun training. In 1996 he appointed KP Nataraj as his national representative for India. In 1999 KP Nataraj brought Don Grose to India and during this trip he was awarded with 7th degree Black sash to KP Nataraj. KP Nataraj is no longer a part of Sifu Don Grose's organization.
His intention was to learn true Ip Man system of Wing Chun Kungfu. He wanted to be trained under a Hong Kong native master. His search ended with Sam Hing Fai Chan, a native of Hong Kong who trained under both Ip Ching & Ip Chun, sons of late Grand Master: Ip Man. KP Nataraj is the student of Grand Master. Sam Hing Fai Chan. He is also learning Jow Ga and Yang Tai Chi along with Wing Chun kungfu. Sifu KP Nataraj invited Grand Master: Chan to India and Grand Master: Chan arrived in India on February 2006. During this trip to India, real knowledge of Wing Chun, Jow Ga, and Tai chi were passed on to Sifu KP Nataraj. Grand Master Chan is a native of Hong Kong, China
Grand Master Sam Hing Fai Chan accepted KP Nataraj as his first student in India to assist him to develop a good quality Chinese martial art school in India. Grand Master: Chan is living with his family in U.S.A.
Dr. KP Nataraj is one of the most versatile authentic Martial art practitioner, Post graduate in Engineering, Counselling Psychologist, Self-defence trainer and confidence Coach from India.
He is the founder of Yaolan. Yao Lan Kungfu School is one of the most authentic Kungfu schools in India. As well as the only school as of now teaching authentic kungfu n this lineage in Kerala state, India. The school was established in 1989. Kungfu, as a martial art, got popularity in India due to the wide spread acceptance and fan following martial art films had received in India. However, there was a lack of institutions offering opportunities for authentic Kungfu training. Yaolan Kungfu School was established with the aim of filling up this void, and professionalize as well as to popularize true Kungfu systems in India. The school was established under the visionary leadership of Sifu KP Nataraj.The approach of the school-professional and technically grounded-has changed the kungfu scenario in India . However, conditions initially were not conducive enough to train authentic Kungfu styles. In the initial years the school taught local styles due to the situation prevalent then–difficulties in communicating with international masters and their organizations. From 1994 onwards the school started teaching the internationally acclaimed Wing Chun Kungfu. Later another system Jow Ga kungfu has been introduced. Many students who trained since 1989 onwards have gone on to become Kungfu teachers and performers.
Academically he is qualified in MTech, MA, MS, and MPhil, PhD.
MTech in Engineering,
MA- Psychology,
MS – counselling and Psychotherapy
M Phil – counselling and Guidance,
PhD – Psychology
He is one of the most versatile martial artist practitioner.
9th star Black Sash in Kungfu
6th Dan Black Belt in Kickboxing
4th Dan Black Belt in Kobudo,
3rd Dan Black belt in Karate
Trained in Wing Chun Kungfu, Jow Ga Kungfu, Kalari, Wushu, Escarima etc
He is the 3rd generation wing Chun Kungfu student from Great Grand master Ip man in the lineage of Ip Man – Ip Ching/Ip Chun- Sam Hing Fai Chan – Dr.KP Nataraj
He is a registered medical practitioner in Alternative Medicine. He is a Reiki Grand Master, Counselling Counsellor and Clinical Hypnotherapist. Reiki Grand mastership attunement was given by Dr. Sandeep Khurana. He studied Hypnotism under Sri. Rooshi Kumar Pandya (Mumbai), Dr. Ramaswamy (Chennai), and Dr P.Vinodson (Kerala). He learned Clinical Hypnotherapy and Past Life therapy under Dr. P.Vinodson. He also learned H.R.T. & P.D. Counselling in Psychotherapy. He has 3rd degree Black belt in Karate, 4th Dan Black belt in Kobudo and Diploma holder in Wushu. He attended training program in Escarima under Disceo Canate, Philippines-World Grand Master of Escarima, N.L.P., Magic etc
He is regularly conducting seminar/webinar in self-development topics, WingChun Kungfu training and Jowga Kungfu Classes, Self-defence Classes/seminars.
Also he is the founder of Yaolan fight club, State secretary of Kerala Kickboxing Association.
Many practitioners teaching and practicing Wing Chun Kungfu and Jow Ga Kungfu in Kerala, India are students of Dr.KP Nataraj & Yaolan Kungfu School